Wheelchair sex and the ability to develop sexuality, participate in sexual activity, and maintain long term intimate relations is desired as much by people with a disability as in the general population. The majority of spinal cord injury wheelchair users are 15 to 45 years of age so sex and fertility often become an important issue. The amount of physical sexual function and ability to feel pleasure or pain sensation after a spinal cord injury depends on level and completeness. In general, an incomplete spinal cord injury affects sexual function to a varying degree if at all, as opposed to complete where no function exists.
For men with incomplete spinal cord injuries involuntary motor and or sensory function still exists below the level of injury. The ability to achieve a sustainable erection for wheelchair sex and reach orgasm is usually possible. After a complete injury the ability to achieve erections, ejaculate, and father children can be greatly compromised. For women complete or incomplete, following an initial absence of menstrual cycle, fertility is rarely impaired, though vaginal lubrication may be. In both sexes limited to no sensation below the level of injury is common. By having wheelchair sex many couples are re-discovering sex after spinal cord injury. Wheelchair sex enriches their lives and results in a more understanding closer relationship.
Safe Sex and What to do With Catheters
Never assume a spinal cord injury causes infertility or makes one incapable of catching and spreading Sexually Transmitted Diseases (STD). Practice safe sex as you would normally. Men with a permanent Indwelling Catheter (IDC) can remove or fold back and cover with a condom or otherwise secure to penis shaft. Women with an IDC can also leave a catheter in during sex unless it causes problems. Stoma and those who self-cath (pass a catheter several times a day to drain bladder) usually do so just prior to sex to avoid any unwanted urine leakage. Supra Pubic Catheter users are free to engage in wheelchair sex, intimacy and sexual intercourse anytime.
Usually high level quadriplegics cannot go without a catheter for long. Care should be taken not to pull on a catheter during sex but don't let it spoil enjoyment. If either wheelchair sex partner (or soloist) has major concern about a catheter for medical or aesthetic reasons tape it and any tubing to the body prior to love making. Be aware tubing pressed hard against skin can cause blisters. A sleeve of soft material slipped over the catheter and or tubing may avoid blistering.
Orgasm Erectile and Vaginal Function
Men with incomplete spinal cord injuries may achieve reflex, but not psychogenic erections. That is; an erection may be achieved by physical stimulus, touch, not erotic vision or thought. While a more than adequate blessing for most, such erections are not always sustainable or strong enough for penetrative sex. Not only can unpredictable erections cause embarrassing situations during sexual intimacy but for wheelchair users in public (being void of sensation below the level of injury) unaware they have an erection. It has been reported that 45 percent of men have experienced orgasm after spinal cord injury.
Complete injuries involving S2 to S4 affect the nerves responsible for two main chambers (corpora cavernosa) of the penis which fill with blood to create an erection, damage at and above this level makes reflex (physically stimulated) erections totally unachievable for most. If a sphincterectomy has been performed reflex and psychogenic erections are rarely possible. Difficulties with erections may eventually be experienced by nearly half of men with Multiple Sclerosis (MS) caused by lesions of the thoracic spine and autonomic nerves.
The most sensitive area of the penis is the fraenum (underside of penis head). A vibrator applied to the fraenum can not only induce erection but orgasm, ejaculation. For a woman laying face up the erogenous zone is two to three inches inside the vagina and upward, called the G-spot. During wheelchair sex a womans G-spot might be more easily reached by sliding her hips up to the front edge of the wheelchair seat.
Women with incomplete spinal injuries are generally able to produce vaginal lubrication and enjoy wheelchair sex. For women with complete injuries between T10 and T12 there is typically an absence of either psychogenic or reflex lubrication. Attempted penetration of the vagina by any means may trigger adductor and pelvic floor muscle spasm. Be patient and never force entry. It has been reported that 53 percent of women have experienced orgasm after spinal cord injury.
Medications and Sex Aids After Spinal Cord Injury
The introduction of oral medications Viagra and Ciallis have largely replaced their intracavernosal predecessors. Swallowing a pill has much less shock value than injecting and massaging meds into the penis. While both methods can help sustain an erection, the ability to achieve some form of erection in the first place, is most desirable.
I am one of the lucky quadriplegic wheelchair users who can get an erection simply by touch. I have tried Viagra several times. In the interests of research for this wheelchair sex article of course. I did not notice Viagra of any benefit to my usual sexual function. Viagra is really only of benefit to those who can achieve psychogenic erections (erections from erotic thoughts).
Devices such as vacuum erection pumps can initiate erection and tight rings or bands applied to the base of penis will restrict blood drain from the penis once erection is achieved. Penile pump implants are also available but carry risk of erosion, leakage, or infection requiring removal. Some men with intact sacral anterior nerve roots are able to achieve stimulator-driven erections, though the primary reason for doing so is urination, not sex.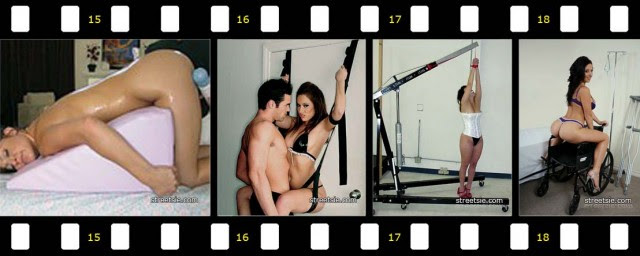 Disability sex aids like sex wedges, sex swings, vibrators, the height of a bed or table, power tilt on a wheelchair and easily removable arm rests are worth consideration when purchasing equipment with wheelchair sex in mind. Partners of wheelchair users will attest the wheelchair itself becomes a sexual aid at times.
For the more sexually adventurous, electric powered mechanical sex seats and fetish equipment like neck braces, casts, catheters, crutches, straitjackets, bondage, electrostimulators, mouth spreaders, and speculum devices exist.
Sex lubricants such as K-Y Jelly can assist in achieving sexual penetration and increase enjoyment of wheelchair sex. Application of these gels or "body sauces" and massage oils to other areas where greater sensation exists may also prove pleasurable during wheelchair sex.
Wheelchair Sex Positions
How do people in wheelchairs have sex? Just like any other person, usually in bed. Some sexual positions are more difficult in bed after spinal cord injury as paralysis makes it hard to roll over or climb on top, compounded by loss of leg function for support, and hips for thrust. Therefore some sexual positions are more easily achieved by practising wheelchair sex. Most modern wheelchairs have easy to remove armrests, swing away footplates, folding backrests and locking brakes and such easily accommodate wheelchair sex and greater sexual freedom. Those in wheelchairs due to spinal cord injury often describe their wheelchair as their legs and therefore it becomes a part of their sexuality.
Paraplegics rely on upper body strength to perform adventurous wheelchair sex positions. Quadriplegics or Tetraplegics rely on assistance from their partner to do the same. For wheelchair sex sliding the paralyzed male or females bottom to the front edge of the wheelchair seat gives greater access for sex. When both sex partners have high level spinal cord injuries a sex worker may be employed to assist in wheelchair sex and intercourse. Be aware when limited sensation below the level of spinal cord injury exists, sensitivity above the level of injury often increases, and can become hypersensitive. Go easy on those nipples.
Some find paralysis and wheelchair users very sexually attractive and actively seek them as partners. Most are caring empathetic people genuinely interested in people with disabilities. Occasionally however such relationships are sought assuming that a position of dominance and control will be given and can result in conflict or violence. Wheelchair sex fetish should not be thought of as perverse. Like any sexual practice it only becomes unhealthy or inappropriate and often illegal when forced into or thrust upon minors and unsuspecting, unwilling parties. For example; public masturbation, flashing and up-skirting.
Throw Clinical Approach Out The Bedroom Window
As a C4 incomplete quadriplegic male able to achieve reflex but not psychogenic erections the sight of my beautiful girlfriend still makes me want to pin her to the wall and tear her lingerie off with my teeth. A clinical diagnosis deeming psychogenic, sexual thought and erotic vision of no benefit to establishing erection, bares no relevance in the bedroom. Scented candles, rose petals, lingerie, nudity, enticement, foreplay, wheelchairs and other apparatus can hold new use and appreciation for both sexes. Blessed with a patient willing partner I even turn my head sideways looking at my hoist lately.
"Sexy is not about sensation. It took time to recognize that what I was feeling during sex was less about physical sensation and more of a mental build-up. It's mind over matter, but there's definitely a release. It was completely frustrating at first, but I think part of the healing process was learning the ways my body works differently after my accident." – Angela Rockford
Experiment with your partner to discover the new frontier spinal cord injury and wheelchair sex brings. Talk with them to learn about their body, likes and dislikes. People with a physical disability often have a poor self body image, thinking they are damaged goods, broken, somehow less than. This perception or stigma is difficult to change in both the disabled and general public's mind. Often an able-bodied sex partner will feel guilt for having full sensation. These feelings are normal and should be discussed, but don't dwell on them. Healthy love making is about pleasing your partner. The person with limited sensation from spinal cord injury often derives great joy and sexual satisfaction from simply pleasuring their partner.
A girlfriend of mine was asked what she sees in me because I'm, "not a whole man." Resisting the urge to punch them out of their seat she replied, "He's more man than any I know, I see the man not the wheelchair."
Spinal Cord Injury Emissions and Ejaculations
For seminal emission to occur the spinal cord nerves from T11 to L2 to the vasa deferentia, seminal vesicles, and prostate must be intact. Emission being a trickling or leakage of semen with no rhythmic contractions of the pelvic floor muscles as in true ejaculation. Some with complete cord lesions at lumbar or sacral level may be able to achieve psychogenic erections and emission. Retrograde ejaculation, where the semen is ejected into the bladder rather than the urethral meatus is common.
When ejaculation cannot be achieved by sexual intercourse it may be induced by masturbation or vibrator stimulus of the fraenum (underside tip) of the penis. Emissions may also be induced by rectal electroejaculation (a vibrator applied to prostate via the anus). A hypo-gastric plexus stimulator can also be implanted to achieve emission, using a single inductive link across the skin. When neither ejaculation nor emission can be achieved collection of sperm by epididymal aspiration or testicular biopsy (a sample collected from testicles by needle) is possible.
Fertility After Spinal Cord Injury
Fertility in men progressively reduces after spinal cord injury. A low sperm count with diminished motility (swim strength) is often due to continuing non-ejaculation, infection and raised testicular temperatures from sitting in a wheelchair and laying in bed for long periods with little mobility and poor air flow. Earliest collection and storage of sperm after a spinal cord injury might therefore be enacted. Seminal fluid quality may improve after repeated ejaculation. All good reasons to engage in regular wheelchair sex.
It is essential to obtain microbiological cultures of the seminal fluid and eradicate any infection prior to proceeding with an attempt at fertilization. Fertilization success rates after spinal cord injury have improved with the use of seminal fluid enhancement techniques, intrauterine insemination, In-Vitro Fertilization (IVF) and Intracytoplasmic Sperm Injection (ICSI).
For women after an initial absence of menstrual cycles fertility is rarely compromised. If the spinal cord lesion is complete above T10 labor may be painless. When unable to bear down effectively during the second stage of labor forceps are often used to assist in delivery. Autonomic Dysreflexia during labor is a risk for mothers with a spinal cord injury at T6 and above, this can be prevented with an epidural anesthesia.
Sexual Access and Opportunity for Disabled
Get the latest Flash Player to see this player.
<p>[Javascript required to view Flash movie, please turn it on and refresh this page]</p>
"(Sex)abled Disability Uncensored" celebrates people with disabilities as sexual beings. This 14-minute film made by San Francisco State University students features the bright and lively participants of the discussion panel sponsored by UC Berkeley's Disabled Students Union called "Are Cripples Screwed?" Enjoy engaging with Bay area community members and comedian Josh Blue (winner of Last Comic Standing) as they share their personal experiences with wheelchair sex, dating and intimacy. Please consider making a contribution to the production of this video at Sex Smart Films.
For significantly disabled wheelchair users such as high level spinal cord injury tetraplegics (quadriplegics) on ventilators living in structured environments, nursing homes, group homes and institutions, wheelchair sex and opportunities for sexual and gender expression may be limited. Institutional barriers to wheelchair sex and sexual relationships include cramped conditions, a lack of privacy, unwelcome intrusion by support staff, prohibited relationships with staff, prohibited sexual contact between residents and prohibited sexual relations between residents and visitors.
Disabled people's sexual and emotional needs are rarely included in any discussion or representation in popular culture such as movies, music, and magazines. When disabled people are represented in more sexually positive ways by media, often social cultural and institutional supports follow suit, advocating for disabled people's greater sexual access and sexual well-being. For wheelchair users with spinal cord injury this positive sexual representation not only promotes wheelchair sex. It strengthens sexual self-identification and heightens sexual self-esteem. It creates an avenue for non-disabled people to see the disabled in a more sexually attractive light.
Disability in the Commercial Sex Industry
Paraplegics and quadriplegics are employed as sex workers in several fields. Increasing numbers of women with paralysis from spinal cord injury and other physical disabilities are being employed in the phone sex industry. Some customers specifically request sexual surrogates (qualified sex therapy educators who engage in sex). Others request wheelchair bound prostitutes. Some earn a living as wheelchair sex porn stars. Disability sex educators, with an actual disability, are highly sought after. Wheelchair bound glamour models are increasingly seen in the fashion industry. There is even a niche for medical equipment test pilots.
A 13 billion dollar industry in the United States, commercial outlets and websites selling "disability fetish" calendars, pictures and videos of disabled women and men having sex, wheelchair sex, naked "gimp" amputees, girls in casts and various other mediums of wheelchair bound people having sex are increasingly common in western culture. Most are produced solely for pornographic use which is fine for adult porn entertainment but is all to often exploitative of the disability sector. Porn movies featuring non-disabled wheelchair pretenders do little to promote real wheelchair sex or sex with a disability. The wheelchair becomes nothing more than a prop.
The relationship between disability and the commercial sex industry has developed healthier approaches through increased education and recognition of sexuality of people with disabilities as an important issue. With or without disability however gender imbalance will always exist, where women are seen as goods and men as the consumer or buyer of such goods.
Disability in the International Sex Industry
The global sex industry is worth an estimated 850 billion US dollars per year spawning many illegal underground sub-cultures. Human trafficking is the fastest growing criminal industry in the world, targeting vulnerable sections of populations including disabled people. Globally, 27 million people are held in slavery for the two main purposes of labor and sex. Often considered unable to work, those with a disability are nearly always exploited for sex.
Disabled women often enter into traditional prostitution as the lowest and cheapest commodity due to their extremely marginalized status. This places them at great risk of sexual abuse, rape and sexually transmitted disease HIV/AIDS. Each country has their own inherent problems concerning sexual issues, such as traditional customs and culture, access and support, education and advocacy, economy and research. The problems facing the international sex industry are many and positive outcomes few.

Five Quick Wheelchair Sex Facts
A Braille copy of Playboy featuring the beautiful paraplegic Ellen Stohl was provided by the National Library Service for the Blind and Handicapped in the USA until Congress banned its production.
The average age of entry into pornography and prostitution in the USA is 13. Of these more than 10% have a disability.
In Australia, the Accsex Network provides disabled people with a "sex-attendant" and can arrange access to other wheelchair sex services.
The Pink Palace, a brothel in Melbourne, gained global media attention by making their premises wheelchair accessible and installing a sit-down shower.
In Zimbabwe some still believe that HIV/AIDS can be cured by having sex with a disabled person.
Barriers to Sexual Expression After Spinal Cord Injury
Social attitudes and physical barriers associated with decreased mobility as well as a dependency on others for care after a spinal cord injury often hinders sexual expression. A social attitude that deems people with physical disabilities as dependent and helpless only fosters assumptions. It serves to prevent able-bodied people from accepting a person with spinal cord injury as a sexual partner.
Perceived as very "needy" a relationship with a person of high level spinal cord injury such as quadriplegia or tetraplegia is imagined to be extremely demanding and never equal. This attitude can also become internalized by the person with spinal cord injury. They start to believe their dependency makes them undesirable wheelchair sex and life partners.
Wheelchair sex barriers after spinal cord injury and the true sexual desires, prowess and functions of people with disabilities, are greatly compromised by mythical stigma and stereotypes. People with intellectual disabilities for example are often believed to be oversexed and dangerous or asexual and eternally childlike. Other wheelchair users, especially those with a spinal cord injury are considered unable to parent, conceive, or adequately raise children. These false stereotypes further exclude people with disabilities from sexual activities. This has been highlighted by an increasingly vocal constituency of people with disabilities expressing frustration at the social barriers preventing full participation in life particularly in the taboo area of sexuality.
Emphasis has been placed on social re-integration of wheelchair users like those with spinal cord injury in recent times. Schemes and programs have been developed to open opportunities for wheelchair sex, independent living, education, employment, health, sport, transport and physical wheelchair access. Many people meet sex partners and life partners at college, their workplace and social events, but for wheelchair users they must first be able to participate and express their sexuality. Only then can they be seen as sexually able and possibly sexually attractive.
Identified Sexual Outcomes After Spinal Cord Injury
Today, there is a greater awareness that sexuality is equally important to men and women with disabilities and that sexuality is an integral part of the development and experience of all people. Much of what we know about the social barriers that people with disabilities face in relation to their sexuality comes from the reports of people with disabilities themselves. Disability activists have also played a strong role, campaigning for the sexual rights of people with disabilities, including the right to have sexual relationships, the right to be parents, and the right to access sexual services.
People with a disability including wheelchair users with spinal cord injury don't always portray the youth, virility, athleticism and physical beauty that is so sought after in western culture. Often resented by the able-bodied, seen as ugly and repulsive, the disabled body is hidden or presented as something to be avoided, corrected, and pitied.
Historically, there has been a fear that people with disabilities will produce offspring with disabilities, and a belief that this is something that should be avoided. Despite the history of exclusion, physical limitations, isolation and abuse, it is important to note that for other people with disabilities, their sexual rights are being achieved and they are leading satisfying sexual lives.
Both paraplegics and quadriplegics living with spinal cord injury are enjoying relationships of all kinds, having children, marrying other disabled people and people who do not have a disability. People with disabilities are enjoying active wheelchair sex lives, dating, loving, touching, kissing, hugging, sucking, fingering, and fucking. Some are accessing the sex industry, visiting sex workers, working as sex workers, consuming pornography, and in some instances, making pornography.
People paralyzed by spinal cord injury are learning and teaching about sex, as sex educators, counselors, and researchers. They are finding and sharing useful ways to enjoy wheelchair sex, express their sexuality, increase sexual pleasure and bolster sexual self esteem. Prioritizing the sexual rights of people with disabilities, as well as dissolving stereotypes, taboos and silences will ensure that these success stories become the norm for most people with disabilities in years to come.
Graham Streets
MSC Founder
Resources
Barry, K. 1995. The Prostitution of Sexuality. New York University Press.
Bradford, S. 2003. Prostitution Reform Bill Good for Disabled People.
Fegan, L. A. Rauch. W. McCarthy. 1993. Sexuality and People with Intellectual Disability. Sydney, Australia: MacLennan & Petty Pty Limited.
Gary L. Albrecht. 2006. Encyclopedia of Disability. University of Illinois, Chicago.
Hughes, D. 1999. Pimps and Predators on the Internet: Globalizing Sexual Exploitation of Women and Children. Oslo, Norway: The Coalition Against Trafficking in Women.
McCabe, M. P. and G. Taleporos. 2003. Sexual Esteem, Sexual Satisfaction and Sexual Behavior among People with Physical Disability. Archives of Sexual Behavior.
Miles, M. 1999. Blindness in South and East Asia: Using History to Inform Development. Disability in Different Cultures: Reflections on Local Concepts. New Brunswick, NJ: Transaction Publishers.
Mona, L. R. and P. S. Gardos. 2000. Disabled Sexual Partners. Psychological Perspectives on Human Sexuality.
Murphy, R. 1995. Encounters: The Body Silent in America Disability and Culture. University of California Press.
Noonan, R. 2000. Sex Surrogates: A Clarification of Their Functions.
Raymond, J. G. 2003. 10 Reasons for Not Legalizing Prostitution.
Richard, A. O. 1999. International Trafficking in Women to the United States: A Contemporary Manifestation of Slavery and Organized Crime. Washington, DC: Center for the Study of Intelligence, CIA.
Shakespeare, T. 2000. Disabled Sexuality: Toward Rights and Recognition. Sexuality and Disability.
Shakespeare, T., K. Gillespie-Sells, and D. Davis. 1996. The Sexual Politics of Disability: Untold Desires. London: Cassell.
Shuttleworth, R. 2000. The Search for Sexual Intimacy for Men with Cerebral Palsy. Sexuality and Disability.
Shuttleworth, R. P. and L. Mona. 2002. Disability and Sexuality: Toward a Focus on Sexual Access. Disability Studies Quarterly.
Silverburg, C., M. Kaufman, and F. Odette. 2003. The Ultimate Guide to Sex and Disability. San Francisco: Cleis.
Sipski, M. and C. Alexander. 1997. Sexual Function in People with Disability and Chronic Illness: A Health Professional's Guide. Frederick, MD: Aspen.
Taleporos, George. 2001. Our Bodies and Sexualities beyond 2000: Disability with Attitude: Critical Issues 20 Years After International Year of Disabled Persons. University of Western Sydney, Australia.
Wade, H. 2002. Discrimination, Sexuality and People with Significant Disabilities: Issues of Access and the Right to Sexual Expression in the United States. Disability Studies Quarterly.
Sobsey, D. 1994. Violence and Abuse in the Lives of People with Disabilities: The End of Silent Acceptance. Baltimore: Brookes.
Websites